~ Kit Miller
Additional NVC resources here.
 "I developed NVC as a way to train
my
attention
— to shine the light of consciousness — on the places that have the potential to yield what I am
seeking
."
"Attention is the rarest and purest form of generosity."
New to the NVC toolkit

Supported Conversations & Empathic Coaching
Learn more here
&/or stay in touch via social media:

See also:
Vision & Mission
"The vision of the 3Chairs Project is a critical mass of people around the world working together to respond to the challenges we face, and creating a peaceful, healthy, and sustainable world.
The mission of the project is people having difficult and important conversations — personal, work, political — using a '3 chairs' structure and process that brings mindful awareness, compassion and collaboration to these conversations. It's about hearing and understanding each other in our differences and our pain, without needing to agree, and connecting at the level of our shared humanity to contribute to one another's well being. It's about having conversations that change us, that create the life and relationships we want, and that move us toward the world we envision…" (continues here)
You're welcome to contact John Kinyon, via his website johnkinyon.com, to learn more as to NVC Mediation, both formally and informally, as well as to how to learn to apply these skills to one's everyday interactions. I've found his and Ike's mediateyourlife.com work/maps to be crucial towards integrating the consciousness of NVC.
Feel free to reach out to me, Pamela (a.k.a. @StreetGiraffe), here with any questions you may have &/or if you may be considering joining my telepractice — see beneath for more details — or if you might be curious as to how a further consultation/referrals could work.
More as to my NVC path here
"Dialogue is a conversation…the outcome of which is unknown."
~ Martin Buber

Learn more as to both my blog/telepractice and I invite you to follow @streetgiraffes via social media (find links here):

A resource-laden blog & telepractice group:

(note plural/separate website)
What is "Nonviolent" about Nonviolent Communication? 
New to NVC?
Video intro:
Cup of Empathy – YouTube
 Excerpt from a worthy NVC primer:
When To Speak & When To Listen
"If I had just one book to recommend about interpersonal communication, it would be this one."
~ Rick Hanson, PhD
Observations, Feelings, Needs & Requests
More as to above & Jim Manske's book release here

"Never question the beauty of what you are saying because someone reacts with pain, judgment, criticism.  It just means they have not heard you."
~ Universal Human Needs
I invite you to follow me (via social media):
(More on my idiosyncratic take on 'streetifying')
 Streetify
Defined:  "In modern prose and poetry 'street' is used to define non-mainstream, a form of anti-establishment. It probably means to disassociate from what is regarded as 'establishment'."
"I am not easily frightened. Not because I am brave but because I know that I am dealing with human
beings, and that I must try as hard as I can to understand everything that anyone ever does…" (continues)
~ Etty Hillesum in Etty: A Diary 1941–1943
Facebook page
Additional NVC Mediators/Coaches:
"Most conversations are simply monologues delivered in the presence of a witness."
~ Margaret Millar
Radical Compassion's Pathways to Liberation Self-Assessment – Matrix
"The art of conversation is the art of hearing as well of being heard."
~ William Hazlitt, Selected Essays, 1778-1830
Read the writer/writing that introduced me to NVC:


Katy Butler begins this piece by referencing an NVC tenent which posits that while our [universal-human] needs are never in conflict, our strategies for attending to them often can be.  She then presences the Buddhist precept of Right Speech, offering that many dharma teachers view Nonviolent Communication as supportive to this end.
"Three chairs can change your life…"
~ John Kinyon
"Change happens by listening and then starting a dialogue with the people who are doing something you don't believe is right."
~ Jane Goodall

"Fierce Urgency of Now"
We are now faced with the fact that tomorrow is today. We are confronted with the fierce urgency of now. In this unfolding conundrum of life and history there is such a thing as being too late. Procrastination is still the thief of time. Life often leaves us standing bare, naked and dejected with a lost opportunity. The "tide in the affairs of men" does not remain at the flood; it ebbs. We may cry out desperately for time to pause in her passage, but time is deaf to every plea and rushes on. Over the bleached bones and jumbled residue of numerous civilizations are written the pathetic words: "Too late." There is an invisible book of life that faithfully records our vigilance or our neglect. "The moving finger writes, and having writ moves on…" We still have a choice today; nonviolent coexistence or violent co-annihilation.
ZENVC's Mindfulness & NVC guidebook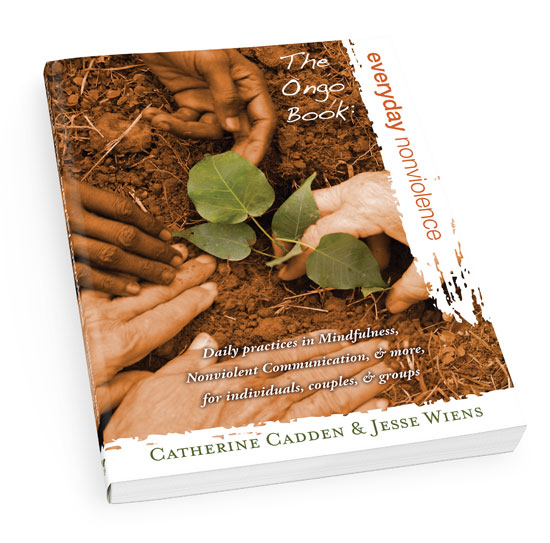 Praise for The Ongo Book (& NVC as a mindfulness practice):
"In a hurried and harried world, here are some basic and potentially powerful ideas about how to remain stable and unrocked. My guess is they will become more valuable as our various external crises deepen, and some of the distractions on which we currently lean begin to show their shallowness."
–
Bill McKibben
, author of Deep Economy and co-founder of
350.org
Cornerstone Essay to an NVC Practice:
Miki Kashtan's Wanting Fully Without Attachment [PDF]
 

My experiments with truth blog 
#streetdispatches
(forthcoming)

 "In a real sense all life is inter-related. All men are caught in an inescapable network of mutuality, tied in a single garment of destiny. Whatever affects one directly, affects all indirectly. I can never be what I ought to be until you are what you ought to be, and you can never be what you ought to be until I am what I ought to be… This is the inter-related structure of reality." ― Martin Luther King Jr., Letter from Birmingham Jail: Martin Luther King Jr.'s Letter from Birmingham Jail and the Struggle That Changed a Nation
"Man cannot discover new oceans unless he has the courage to lose sight of the shore."
— Andre Gide