~ Kit Miller
ZENVC's Communication Flow Chart 
"Mindfulness opens the door for our communication skills. It helps navigate inevitable relationship and conversation challenges such as reactivity, fear, or anger. It provides us a way to recognize various habit patterns that arise around emotions, along with a practice for handling difficult feelings and impulses so they're not running the show.'
More as to how to join our @streetgiraffes NVC telepractice, download some Handy-Handouts (re: Dialogue-Prep towards more Connected Conversations, etc.), ways of Naturalizing NVC & more here
🪑🪑🪑
I also invite you to explore Mediate Ypur Life skills, which have been complementary, even crucial on my own path, possibly by sampling…
Kinyon's new NVC App:
(please note my favorite mnemonic memory trick with the "Star Wars" inspired bio-regions, most especially, via MediateYourLifeApp.com/resources)
Learn more as to John Kinyon's work here
@YvetteErasmusPsyD via YouTube
Questions? Please feel free to contact Pamela (@StreetGiraffe) via streetgiraffe@gmail.com 
When To Speak and When To Listen – 
"You have a choice—using it wisely can spell the difference between misunderstanding and meaningful dialogue." (continues
here
)
Additional articles by Oren
here
(simple, not always easy)
Additional NVC resources here & here.
NVC's Three Choices:
"I'm basically saying to people is, 'look you can talk however you like, most of the time, you know if it works for you to say whatever you're saying, but if you're really clear that if it's not working for you, or not working for the other person, then shrink down your available options down to just three options.'  That's essentially what I'm saying to people.  And the practice is in actually, it's maybe more difficult to shrink down and turn away from all the normal things you ordinarily do,  blaming, persuading, criticizing people, making demands, telling stories, telling jokes, all of these other options, many options. To shrink it down to just three options…" (continues)
@nmbailey: "I have a sense that 90% of Nonviolent Communication is about 'Self-Connection.' When using this expression, I'm referring to the practice or process that lives at the root of Inbal Kashtan's Tree of Life diagram…" (continues)
More here
Inbal Kashtan's Tree of Life at the United Nations:
Dr. Erasmus – Communication Flow Chart
 "I developed NVC as a way to train
my
attention
— to shine the light of consciousness — on the places that have the potential to yield what I am
seeking
."
When Are You Ready To Have a Difficult Conversation?
Linnaea Marvell's Communication Flow Chart:
"The art of conversation is the art of hearing as well of being heard."
~ William Hazlitt, Selected Essays, 1778-1830
On Shifting to Needs Consciousness
"There is a vitality, a life force, an energy, a quickening that is translated through you into action, and because there is only one of you in all of time, this expression is unique. And if you block it, it will never exist through any other medium and it will be lost." ~ Martha Graham
 
"Attention is the rarest and purest form of generosity."
I once heard it said that while Marshall Rosenberg inspired many as the walking embodiment of someone who could exemplify NVC Consciousness, seemingly effortlessly, his gifts were sometimes left for following generations to more fully articulate, codify and convey.
The ten Mediate Your Life Maps, incorporated in one's mind's eye within an all-encompassing meta map, have become a kind of combination enigma-decoder/Rosetta-stone — unlocking NVC consciousness (potential) — as well as an intra/interpersonal gyroscope towards a more balanced orientation when friction arises.
Navigational Maps
Highly Recommended App -> NVC toolkit:
Mediate Your Life – Conversations
🪑🪑🪑
MediateYourLifeApp.com/resources
Also courtesy of John Kinyon:
Across the Aisle Conversations (free)
Reconciliation & Healing Conversations (free)
Mediate Your Life – an online retreat
Online Weekly Mediate Your Life Course
(opportunity to join each month)
Supported Conversations & Empathic Coaching
Learn more here
&/or stay in touch via social media:

🪑🪑🪑
Vision & Mission
"The vision of the 3Chairs Project is a critical mass of people around the world working together to respond to the challenges we face, and creating a peaceful, healthy, and sustainable world.
The mission of the project is people having difficult and important conversations — personal, work, political — using a '3 chairs' structure and process that brings mindful awareness, compassion and collaboration to these conversations. It's about hearing and understanding each other in our differences and our pain, without needing to agree, and connecting at the level of our shared humanity to contribute to one another's well being. It's about having conversations that change us, that create the life and relationships we want, and that move us toward the world we envision…" (continues here)
See, too:
Embracing Multiple Perspectives
Yvette Erasmus, PsyD – YouTube Channel
Dr. Yvette Erasmus: blog posts on boundaries
The Eight Key Attributes of a Conflict Situation: When to Use Each Conflict-Handling Mode Most Effectively
You're welcome to contact John Kinyon, via his website johnkinyon.com, to learn more as to NVC Mediation, both formally and informally, as well as to how to learn to apply these skills to one's everyday interactions. I've found his and Ike's Mediate Your Life work/maps to be crucial towards integrating the consciousness of NVC.
More as to my NVC path here
Feel free to reach out to me, Pamela (a.k.a. @StreetGiraffe), too — here — with any questions you may have &/or if you may be considering joining my telepractice where we work with these ten maps — see beneath, scroll further down, for more details — or if you might be curious as to how a further consultation/referrals could work.
"Dialogue is a conversation…the outcome of which is unknown."
~ Martin Buber
Cornerstone essay for an NVC practice:
Wanting Fully Without Attachment
"…I see wanting without attachment as a deep spiritual practice."
~ Miki Kashtan via Why Wanting Matters
Miki Kashtan's Wanting Fully Without Attachment [PDF]
Curious to practice the skills of naturalizing NVC alongside the mindfulness practices of "wanting fully without attachment" and 3chairs conversations?
Learn more as to both my blog/telepractice.
I also invite you to follow @streetgiraffes via social media (find links here)

A resource-laden blog & telepractice group:

(note plural/separate website)
What is "Nonviolent" about Nonviolent Communication?
(essay by Miki Kashtan)
Why Practice NVC?
@YvetteErasmusPsyD via YouTube 
The Secret to Enjoying People as They Are
Free NVC (dialogue facilitation) resource:
New to NVC?
Video intro:
Cup of Empathy – YouTube
Oren Jay Sofer: Three Steps to Better Conversations 
 Excerpt from a worthy NVC primer:
When To Speak & When To Listen
From the Book…
Say What You Mean: A Mindful Approach to Nonviolent Communication
"If I had just one book to recommend about interpersonal communication, it would be this one."
~ Rick Hanson, PhD
Oren Jay Sofer: Guided Meditation – Meeting a Fox
Learn Nonviolent Communication:
Observations, Feelings, Needs & Requests
Learn more as to the above via a Jim Manske's book release and accompanying instructional videos here
Additional events offered by the Manskes here

"Never question the beauty of what you are saying because someone reacts with pain, judgment, criticism.  It just means they have not heard you."
~ Marshall Rosenberg 
"All people ever say is: THANK YOU (a celebration of life) and PLEASE (an opportunity to make life more wonderful)." ~ Marshall Rosenberg
On hearing the "please" (even if retroactively: hindsight/insight/foresight)…
From "Getting Empathy" to "Getting Support with Self-Connection" – BayNVC
By Newt Bailey 
Excerpt:
…Fortunately, returning to the Self-Connection roots does not have to happen right there and then, while you're still attempting to connect and converse with the other person. Sometimes the Self-Connection is going to take longer than just a few seconds or minutes within the space of an active conversation. Sometimes you'll need to do it in a pause between conversations.
Perhaps your conversation with the other person comes to a pause that you both agree to because you see it as a wise thing to do. Or perhaps your conversation grinds to a halt when one of you runs out of the energy or willingness to continue. However the pause happens, you eventually find yourself with time away from the other person. The recipe I then recommend is:
@YvetteErasmusPsyD via YouTube 
🪑🪑🪑
I invite you to follow me (via social media):
&
(More on my idiosyncratic take on 'streetifying')
 Streetify
Defined:  "In modern prose and poetry 'street' is used to define non-mainstream, a form of anti-establishment. It probably means to disassociate from what is regarded as 'establishment'."
"I am not easily frightened. Not because I am brave but because I know that I am dealing with human
beings, and that I must try as hard as I can to understand everything that anyone ever does…" (continues)
~ Etty Hillesum in Etty: A Diary 1941–1943
Facebook page
Assessing Capacity for Conversations 
Additional NVC Mediators/Coaches:
"Most conversations are simply monologues delivered in the presence of a witness."
~ Margaret Millar
Self-Assessment – Matrix  [PDF]
Jeff Brown's A new monetary system: The NVC Pain Exchange – NVCPE
Read the writer/writing that introduced me to NVC:


Katy Butler begins this piece by referencing an NVC tenent which posits that while our [universal-human] needs are never in conflict, our strategies for attending to them often can be.  She then presences the Buddhist precept of Right Speech, offering that many dharma teachers view Nonviolent Communication as supportive to this end.
"Three chairs can change your life…"
~ John Kinyon
"Change happens by listening and then starting a dialogue with the people who are doing something you don't believe is right."
~ Jane Goodall

"Fierce Urgency of Now"
We are now faced with the fact that tomorrow is today. We are confronted with the fierce urgency of now. In this unfolding conundrum of life and history there is such a thing as being too late. Procrastination is still the thief of time. Life often leaves us standing bare, naked and dejected with a lost opportunity. The "tide in the affairs of men" does not remain at the flood; it ebbs. We may cry out desperately for time to pause in her passage, but time is deaf to every plea and rushes on. Over the bleached bones and jumbled residue of numerous civilizations are written the pathetic words: "Too late." There is an invisible book of life that faithfully records our vigilance or our neglect. "The moving finger writes, and having writ moves on…" We still have a choice today; nonviolent coexistence or violent co-annihilation.
ZENVC's Mindfulness & NVC guidebook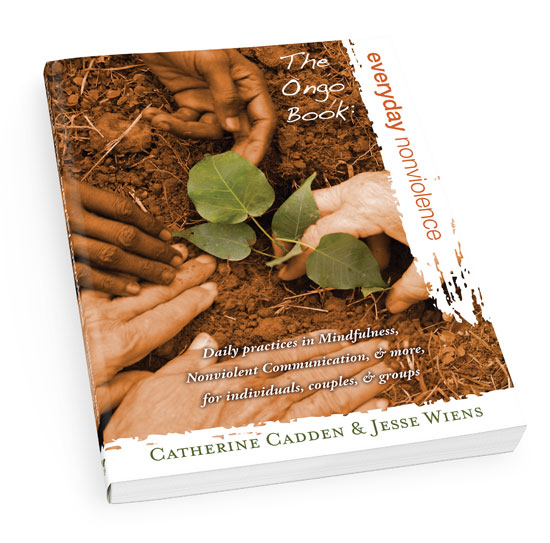 Praise for The Ongo Book (& NVC as a mindfulness practice):
"In a hurried and harried world, here are some basic and potentially powerful ideas about how to remain stable and unrocked. My guess is they will become more valuable as our various external crises deepen, and some of the distractions on which we currently lean begin to show their shallowness."
–
Bill McKibben
, author of Deep Economy and co-founder of
350.org
 

My experiments with truth blog 
#streetdispatches
(forthcoming)

 "In a real sense all life is inter-related. All men are caught in an inescapable network of mutuality, tied in a single garment of destiny. Whatever affects one directly, affects all indirectly. I can never be what I ought to be until you are what you ought to be, and you can never be what you ought to be until I am what I ought to be… This is the inter-related structure of reality." ― Martin Luther King Jr., Letter from Birmingham Jail: Martin Luther King Jr.'s Letter from Birmingham Jail and the Struggle That Changed a Nation
"Man cannot discover new oceans unless he has the courage to lose sight of the shore."
— Andre Gide